Climate Justice and Migration
Mobility, Development, and Displacement in the Global South
With climate change looming, anxiety over immigration from the Global South is increasingly fuelled by apocalyptic fears of ecological breakdown. How should policy-makers respond to the reality and future prospect of vast populations being displaced and relocated in an era of global heating?
Our publication "Climate Justice and Migration. Mobility, Development, and Displacement in the Global South" offers fresh perspectives on the relationship between climate change and human migration, questioning the pessimistic prisms of 'security' and market-oriented approaches to 'adaptation' that currently guide policy.
In a world increasingly shaped by climate instability and inequality, the contributors make an impassioned call for the incorporation of justice within frameworks of environmental and migration governance.
Please join us for a book presentation and discussion:
Welcome by co-editor Kirsten Maas-Albert, Heinrich Böll Foundation, Berlin
Introduction by Claudia Roth, Vice-President of the German Bundestag, Alliance 90/The Greens
Authors' talk moderated by co-editor Ali Nobil Ahmad with:
Avidan Kent (University of East Anglia, UK) and Christiane Fröhlich (GIGA, Germany), and Joyce Melcar Tan (lawyer, Client Earth, UK/Philippines)
Comments and perspectives from Erik Marquardt, Member of the European Parliament, Greens/EFA, introduced by Anna Schwarz, Head of Global Transformation Programme, Heinrich Böll Foundation - European Union, Brussels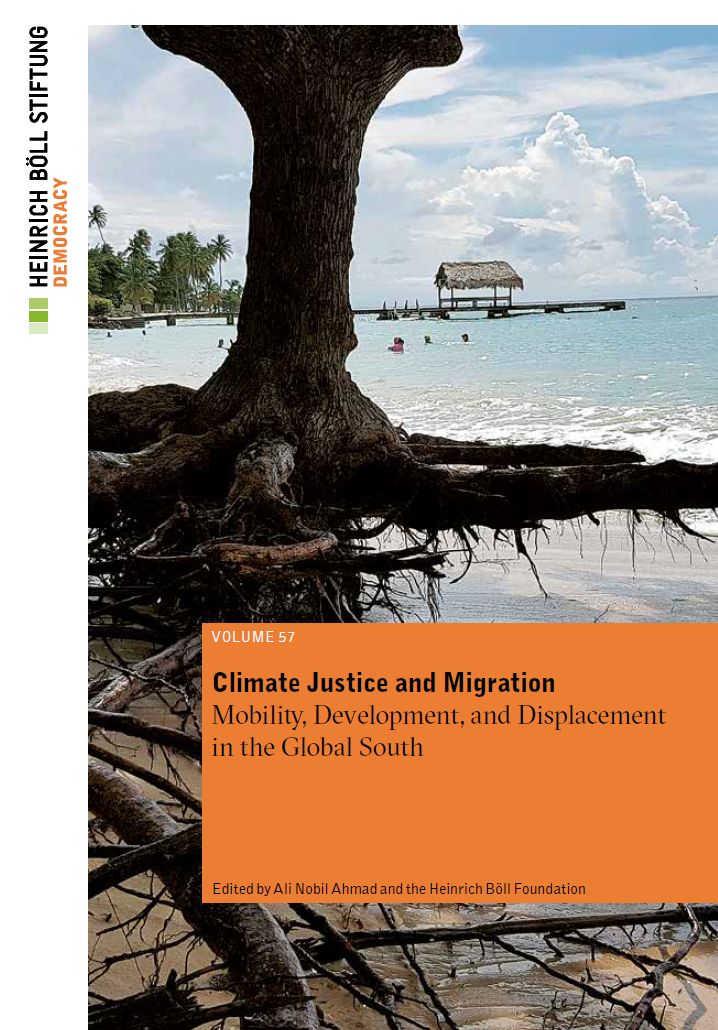 More information on the book,
as well as download- and order details here.
Information:
Maria Kind kind@boell.de
---
Disclaimer
Please be advised that online events will be held using the software provided by Zoom. Depending on the type of event (that is, with or without audience participation), you may require a camera and/or a microphone in order to be able to take part.
You may either use the software client or the app. The internet browsers Chrome and Edge will enable you to participate simply via an access link. Further information on how to use Zoom is available here. Please make sure that you are using the latest version of Zoom so that you have the necessary settings.
The access information will be sent to you via e-mail 24 h prior to the event and, again, 2 h prior to the event.
All events are subject to our privacy policy. The Heinrich Böll Foundation is not liable for issues arising from the use of Zoom software. The current Zoom privacy policy is available here.
Address

➽ Online Event

Language

English